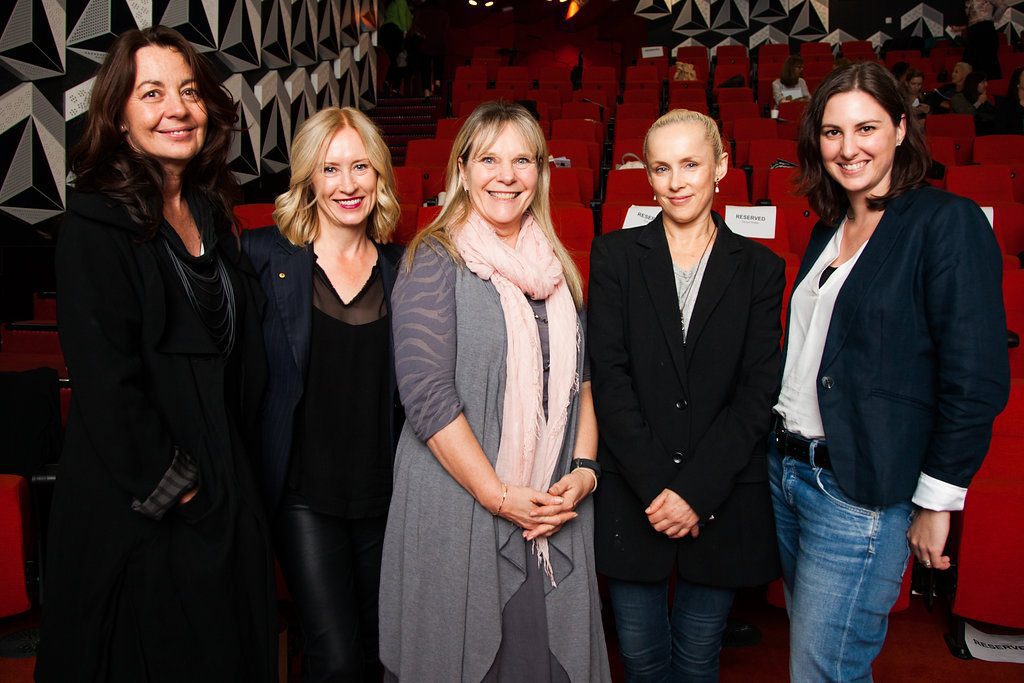 The Natalie Miller Fellowship (NMF) supports the professional leadership of aspirational women in all sectors of the Australian screen
industry; developing further skills, knowledge and connections through fellowships and programs.
Our vision is to achieve gender diversity in screen leadership, resulting in a greater breadth of storytelling, better company performances,
innovation, and a more dynamic, inclusive and robust industry for everyone.
Our Values
Empowerment
The NMF encourages and exemplifies new visions of leadership, empowering those who identify as women to be leaders in the screen
industry.
Inclusivity
The NMF values equality, diversity, and inclusivity in all facets of the screen industry.
Generosity
The NMF values generosity through sharing knowledge, resources and opportunities.
Curiosity
The NMF believes in life-long learning, and the constant search for growth and innovation.
Learn more about WHO IS INVOLVED, our HISTORY and our SUPPORTERS.
Endorsements
Carol Schwartz AM– Patron, Natalie Miller Fellowship
"Dream big as Natalie Miller has done."
Claudia Karvan – Patron, Natalie Miller Fellowship
"The positive impact that Natalie Miller has had on the Australian film industry is unparalleled. It is an honor to be part of this special initiative in her name which encourages a new generation of women to inspire and innovate in an industry that I am so passionate about."
Marc Wooldridge – Managing Director, Twentieth Century Fox Australia and New Zealand
"I believe being progressive includes a better representation of women in leadership roles. And while I acknowledge that there is change in this area and great examples among us, clearly there's room for growth.
The Fellowship's aim is to support and create opportunities that inspire talented women that have the potential to go on to become highly effective leaders in the Australian screen community. The Fellowship is ABSOLUTELY NOT about playing the gender card. Unsurprisingly, I have yet to meet a woman who expects to achieve advancement in her career based on their gender alone – or a man for that matter – but clearly, we need to ensure that when leadership opportunities do become available, diversity is considered of value within the screen industry.
I… recognise what The Fellowship has achieved so far and to show my full support for this fantastic initiative in the future. I also want to invite individuals and hopefully the industry as a whole to get more involved in The Fellowship to help influence positive change in this area."
Alaric McAusland – Managing Director, Deluxe Australia
"Deluxe are both pleased and excited to support the Natalie Miller Fellowship with a significant financial donation. Importantly, we recognise it is only through these contributions that Natalie Miller Fellowship can continue to inspire women in our business and in the broader screen industry to develop professionally and right gender imbalances that currently exist, particularly in decision making roles. We encourage other members of our great community to get behind the Natalie Miller Fellowship to ensure their work continues. In doing so we ensure a richer, more diverse industry from which we can draw strength."
Tracey Mair – Publicist
"I believe that is vital for women in all walks to life to mentor young women and to encourage them to take risks, be bold and to strive to reach their full potential. I have been very fortunate to have been surrounded throughout my long and happy career in the screen industry by wonderful women who, by example and inspiration, have emboldened me to achieve in ways that I never thought possible. I hope that my contribution to the Natalie Miller Fellowship will assist the next generation of young women to be leaders in our industry."
Margaret Pomeranz – ABC At the Movies
"I am a passionate supporter of the Natalie Miller Fellowship. Not just because of the extraordinary woman in whose name it is being established, but because for women in the film industry it is a most exciting initiative…where gender imbalance is still apparent."
Professor Amanda Sinclair– Foundation Professor of Management, Diversity and Change at the Melbourne Business School at the University of Melbourne
"Leadership will not change the nature of women, but women will change the nature of leadership."
Julie Collins MP – former Federal Minister for the Status of Women
"I hope that the Natalie Miller Fellowship can be instrumental in providing opportunities for women to progress in Australia's screen industry and provide greater recognition for women's achievements."
Philippa Hawker – Film critic for The Age
"Natalie Miller has a passion for cinema, and for bringing movies and people together, and she has made a real difference to the Australian cultural landscape."
Adam Elliot – Filmmaker and internationally acclaimed animator
"Every industry has it colourful characters, shining lights, visionaries and inspirers – Natalie Miller is one of ours. Witty, wilful, wonderful and wise, she has always been a person that has not just supported the flow of my creative juices, but has been a dear friend, occasional therapist and hand-holder when I've been feeling wobbly and shy."
Daniele Kemp – Former Head of the French Program & Film Critic for SBS Radio
"Having known Natalie Miller since the early eighties I credit her for being one of the most important influence in making independent cinema available to a wide audiences of film lovers in Australia."