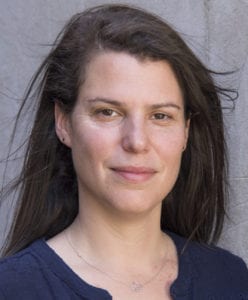 The Natalie Miller Fellowship (NMF) is thrilled to announce on the gala eve of the 2019 Australian International Movie Convention that Australian producer, Anna Kaplan, has received this year's Natalie Miller Fellowship.
Established in 2011 to recognise the unique contribution of screen industry pioneer Natalie Miller AO, the Fellowship is open to all women working in the Australian screen industry and aims to provide financial assistance to pursue professional development in their fields through attachments, internships, secondments, travel and other means in order to reach their full leadership potential.
This year's recipient, Anna Kaplan, is an award-winning producer and former recipient of Film Victoria's Women in Leadership Development Fellowship, who has carved out a niche producing linear and interactive content that tackles pressing social issues and inspires positive action. Kaplan has been responsible for leading the impact campaigns for some of Australia's most high-profile and commercially successful documentaries including THAT SUGAR FILM, THE HUNTING GROUND and most recently Damon Gameau's 2040.
President of the Natalie Miller Fellowship Sue Maslin AO said: "Anna Kaplan has an extensive background in using film and storytelling to ignite change. She is a respected leader in the field of impact producing and has an ambitious vision to mobilise the Australian screen industry to embrace more sustainable environmental practices. We are delighted to award the 2020 Natalie Miller Fellowship to Anna. "
The Natalie Miller Fellowship is the only grant of its kind in the country and offers up to $20,000 for a professional development program that will deliver significant benefits to the applicant and the wider Australian screen community. Last year Village Roadshow came on board as a co-sponsor, which sees the global entertainment company provide $50,000 over five years to support the Fellowship.
Upon receiving the grant Kaplan said: "I am so honoured to be the recipient of this year's Natalie Miller Fellowship. Natalie Miller is a trailblazing, inspirational female leader who has made an indelible mark on the Australian screen industry landscape, so it's incredibly humbling to be associated with her legacy in this way. It's also a huge privilege to be joining such an impressive cohort of previous recipients. The Fellowship will provide me with a game-changing platform to deepen my specialist knowledge, hone my leadership skills and activate my agency to catalyse positive outcomes for the local screen industry."
Since 2012, eight Fellowships have been awarded to Rachel Okine (Vice President of Acquisitions STX international), Harriet Pike (Head of Production & Development, WildBear Entertainment), Rebecca Hammond (Post Production Manager, Beyond Productions), Courtney Botfield (Film Distribution and Marketing Consultant/Producer), Sasha Close (Film Programming Manager, Wallis Cinemas); Kristy Matheson (Director, Film Programs ACMI), Miriam Katsambis (Legal Counsel, Entertainment One); and this year's recipient Anna Kaplan (Producer and Impact Producer, Greenfield Pictures).
The NMF recognises and nurtures the next generation of female leaders in the Australian screen community, inspiring them to reach the very top of their fields.