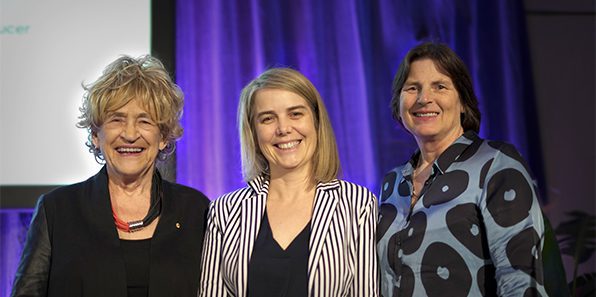 The Natalie Miller Fellowship (NMF) is pleased to announce creative studio, KOJO, has been appointed as co-sponsor of the annual Fellowship.
The independent sports and entertainment studio will provide $50,000 cash over five years to support the not-for-profit's mission to recognise and nurture the next generation of female leaders in the Australian screen community and inspire them to reach the very top of their fields. The announcement was made at Screen Forever in Melbourne.
"To enable any industry to thrive in a time of disruption, innovation and change, we need to ensure we have highly talented, experienced and diverse leaders to navigate companies in the right direction. KOJO is delighted to be partnering with the Natalie Miller Fellowship to contribute to the growth of future leaders in the screen community. Ensuring we grow and nurture female leaders now and into the future through education and professional development will ultimately make for a more powerful screen sector," said KOJO Group Managing Director, Dale Roberts.
Established in 2011 to recognise the unique contribution of screen industry pioneer Natalie Miller AO, the Fellowship is open to all women working in the Australian screen industry and aims to provide financial assistance to pursue professional development in their fields through attachments, internships, secondments, travel and other means in order to reach their full leadership potential.
The NMF is the only grant of its kind in the country and offers up to $20,000 for a professional development program that will deliver significant benefits to the applicant and the wider Australian screen community. The new partnership sees KOJO join global entertainment company, Village Roadshow, as a co-sponsor of the Fellowship.
"We are excited to partner with Kojo as they are one of Australia's most innovative and inspiring screen businesses," said Sue Maslin. "Like Village Roadshow, Kojo is leading the way in supporting our efforts to reach gender parity and diversity among leaders shaping the future of the screen industry."
Since 2012, eight Fellowships have been awarded to Rachel Okine (Vice President of Acquisitions STX international), Harriet Pike (Head of Production & Development, WildBear Entertainment), Rebecca Hammond (Post Production Manager, Beyond Productions), Courtney Botfield (Film Distribution and Marketing Consultant/Producer), Sasha Close (Film Programming Manager, Wallis Cinemas); Kristy Matheson (Director, Film Programs ACMI), Miriam Katsambis (Legal Counsel, Entertainment One); and this year's recipient Anna Kaplan (Producer and Impact Producer, Greenfield Pictures).
KOJO is an independent sports & entertainment studio with four offices across Australia. Our people are driven by the fearless pursuit of possibility, crafting new ways of thinking across sport, film & TV, and brand communication. 
KOJO's screen industry expertise has seen our business work across development, production, post-production and VFX for Australian and international filmmakers; and with over sixty feature film and ten series credits, we bring a unique and deep perspective to the projects we collaborate on with our clients.
KOJO has worked extensively with studios such as Warner Bros, Universal, Miramax, Blumhouse, Netflix, Stan and BBC Films on projects that often span multiple countries, time zones, formats and workflow styles. Our staff are highly experienced across the broad range of services KOJO offers from our two post-production studios in Adelaide and Melbourne with the additional support of our production offices in Sydney and Perth.
It's our pioneering spirit that has helped us captivate audiences around the world for 28 years with creativity that engages, entertains and inspires.