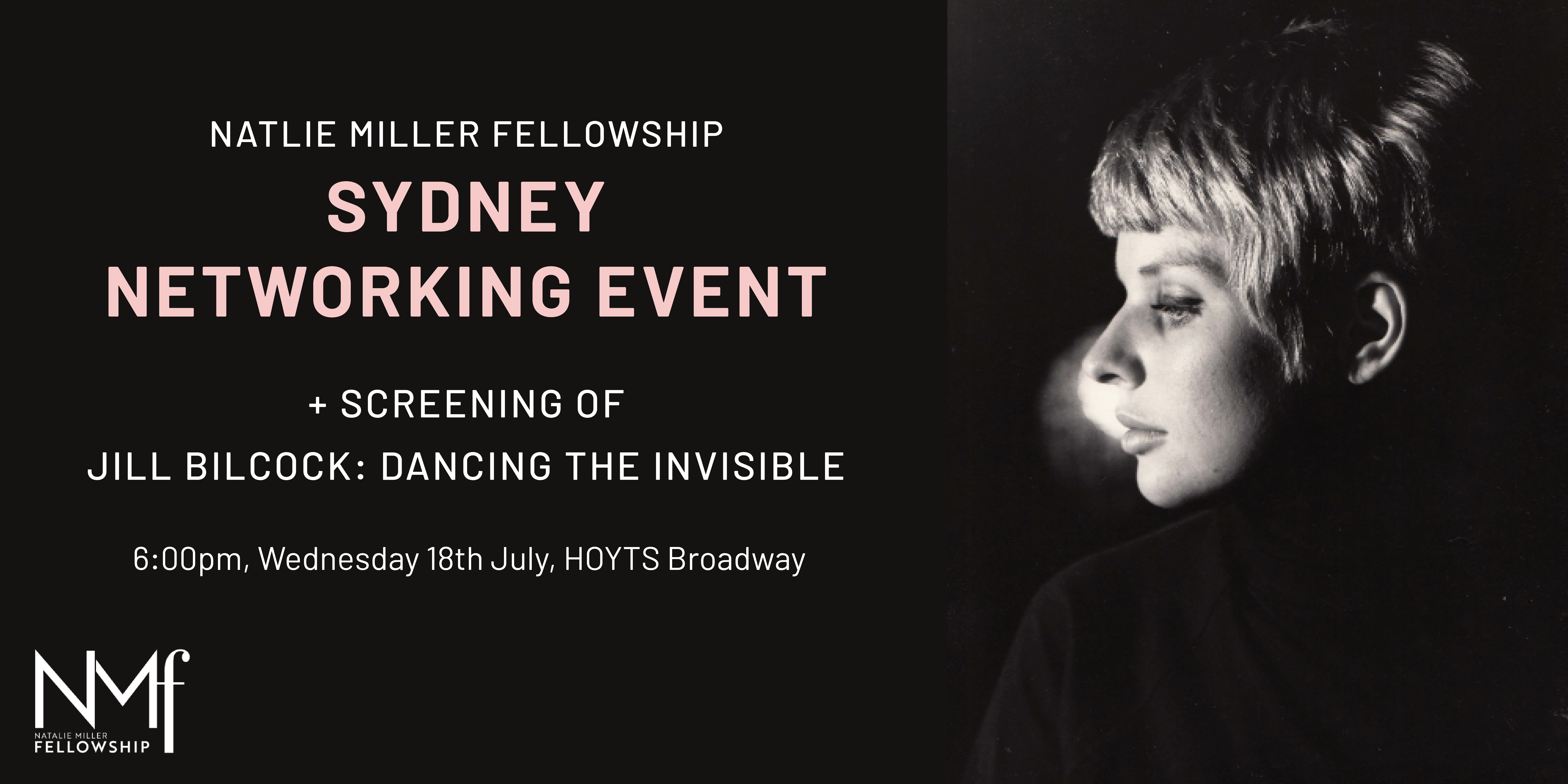 Following our Melbourne event, the NMF is excited to host this special evening in Sydney celebrating women and leadership in the screen industry.
Applications are now open for our annual grant which awards $20,000 to a woman in the screen industry to assist her in achieving her leadership goals.
On this special evening, you will hear from 2016 NMF recipient Sasha Close, (Film Programming Manager, Wallis Cinemas), about how the NMF impacted her career. Sasha will be joined by Sue Maslin, President of the NMF, to answer all your questions about applying to the 2018 Natalie Miller Fellowship.
You'll also enjoy a preview screening of the new Australian feature documentary film, Jill Bilcock: Dancing The Invisibleabout the legendary screen editor of many iconic films (Muriel's Wedding, The Dressmaker, Strictly Ballroom, Red Dog, to name a few). Following the screening, please join us in the HOYTS Lux Bar for drinks and networking.
What's included:
6:00pm A glass of wine on arrival
Welcome and introduction
Talk by Sasha Close, Programming Manager at Wallis Cinemas, recipient of the 2016 Natalie Miller Fellowship
6:30pm Screening of Jill Bilcock: Dancing the Invisible (78 mins), introduced by EP Sue Maslin
Networking to follow
Don't miss out. Book your ticket today.
About Jill Bilcock: Dancing The Invisible (written and directed by Axel Grigor)
Jill Bilcock: Dancing The Invisible focuses on the life and work of one of the world's leading film artists, Academy award nominated film editor Jill Bilcock. Iconic Australian films Strictly Ballroom, Muriel's Wedding, Moulin Rouge!, Red Dog, and The Dressmaker bear the unmistakable look and sensibility of Bilcock's visual inventiveness. But it was her brave editing choices in Romeo + Juliet that changed the look of cinema the world over, inspiring one Hollywood critic to dub her a "Russian serial killer on crack". With a back-story as colourful and surprising as her films, and featuring commentary from Cate Blanchett, Baz Luhrmann, Shekhar Kapur and Fred Schepisi, this documentary is a wonderful insight into the art of editing and the profound impact it has on storytelling.
All profits raised go to the Natalie Miller Fellowship.