Expressions of interest close 5pm Monday 16 January for the NMF Brilliant Careers Leadership Program, encouraging women to develop their leadership skills.
Women at all stages of their careers from across Australia are encouraged to register including exhibition, distribution, broadcasting, post-production, production and cultural agencies.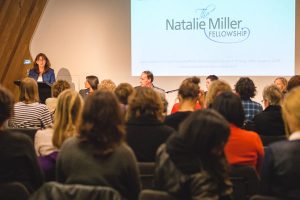 The Program will focus on providing practical tools and advice to develop leadership skills, maximise mentoring and networking opportunities, and examine the components and value of creating a personal brand.
This two part Program will commence with a full-day Leadership Conference on Friday 24 February 2017 at RMIT University in Melbourne.
The conference will be followed by exclusive round table networking dinners for 56 women across Australia, who will then be connected with a mentor. This is a national program that will be delivered in each state and territory.
You may nominate your own mentor or select from those who have already agreed to be part of this program. New mentors just announced include:
Mike Baard, Managing Director, Universal Pictures International Australasia
Mandy Chang, Head of Arts, ABC TV
Martha Coleman, Producer/Partner, Revlover
Amanda Duthie, Director/CEO, Adelaide Film Festival
Ana Kokkinos, Feature Film and Television Director
Wayne Lewis, Co-Founder, Rising Sun Pictures
Amanda Morrison, Transmedia Producer, Transmedia For Change
Julie Raffe, Finance Director, Village Roadshow Limited
Register your interest before 5PM MONDAY 16 JANUARY 2017.
The NMF Brilliant Careers Leadership Program is made possible through Screen Australia's Gender Matters: Brilliant Careers program.
Travel Partner:


Venue Partner:
RMIT School of Media & Communication