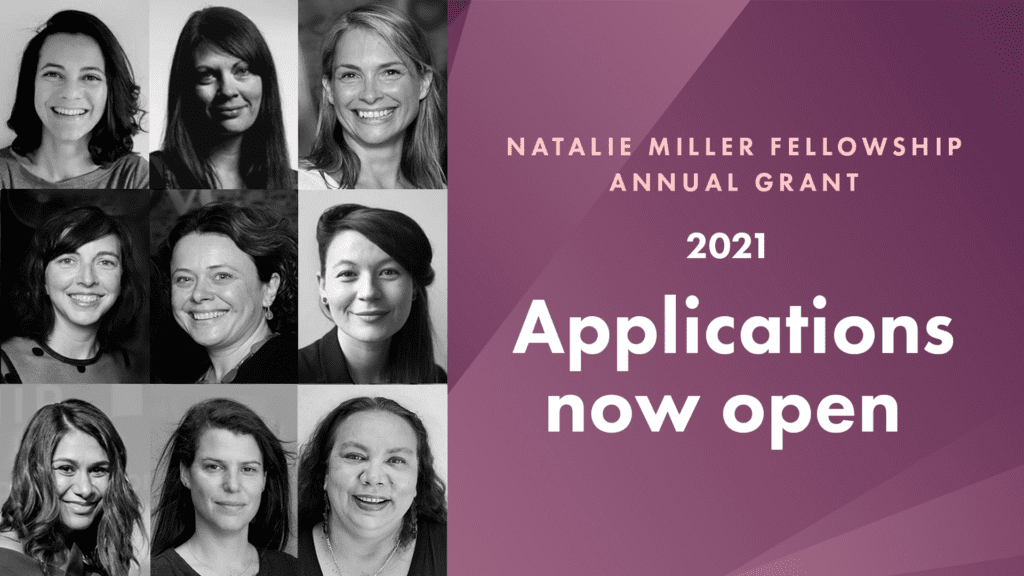 The Natalie Miller Fellowship invites women in the Australian screen industry to apply for its annual grant of up to $20,000, designed to inspire the next generation of female leaders to achieve outstanding success at the top of their fields.
---
EXTENSION ANNOUNCED – The 2021 Natalie Miller Fellowship application deadline has been extended by two weeks, due midnight Sunday, September 12, 2021.
---
Established in 2011 to recognise the unique contribution of screen industry pioneer Natalie Miller AO, the Fellowship is open to established women working in the Australian screen industry and aims to provide an annual grant to aspirational women in all sectors to pursue professional leadership through attachments, internships, secondments, travel and other means in order to reach their full leadership potential.
The Natalie Miller Fellowship is the only grant of its kind in the country and offers up to $20,000 for a professional development program that will deliver significant benefits to the applicant and the wider Australian screen community. The Fellowship is proudly supported by co-sponsors Village Roadshow and independent sports and entertainment studio, KOJO, with each providing $50,000 over five years to support the Fellowship.
Since 2012, nine Fellowships have been awarded to Rachel Okine (Head of Features and Development Executive, Stan); Harriet Pike (Head of Production & Development, WildBear Entertainment); Rebecca Hammond (Post Production Manager, Beyond Productions); Courtney Botfield (Head of Distribution & Sales, Bunya Productions); Sasha Close (Program Manager, Gold Coast Film Festival); Kristy Matheson (Director, Film Programs ACMI); Miriam Katsambis (Legal Counsel, Entertainment One); Anna Kaplan (Producer and Impact Producer, Greenfield Pictures); and Pauline Clague (Founder and Artistic Director of Winda Film Festival).
Last year's winner Clague on receiving the grant said:
"It is such an honour to be the recipient of the Natalie Miller Fellowship for 2020. This year has been so turbulent for our industry and so much of the arts has had a hit during this time of Covid-19. For me, the privilege has been in not being just a hashtag but raising the voice of Indigenous youth and communities during the Black Lives Matter and Deaths in Custody rallies. I look forward to writing works around Indigenous narratives and finding ways to influence and engage our lens in a different way through my work. This Fellowship will allow me to engage with the lens with innovation. To be supported by a fellowship named after a strong woman, Natalie Miller, who introduced foreign cinema to Australia, I am hoping to show the lens of Indigenous cinema in a new light to be a part of enhancing our identity and to continue to shape our next generation of filmmakers."
The Natalie Miller Fellowship is unique in its role of passionately promoting female leaders across the spectrum of the Australian screen sector, but also as a support network for women in the industry and the respect and recognition of the Fellowship is palpable. Its vision is to achieve gender diversity in screen leadership, resulting in a greater breadth of storytelling, better company performances, innovation, and a more dynamic, inclusive and robust industry for everyone.
All applications for the current Natalie Miller Fellowship must be received by Sunday 12 September, 2021 and the recipient will be announced at the Movie Convention in October, 2021.