Screen NSW talks to producer Courtney Botfield, this year's recipient of the 2015 Natalie Miller Fellowship grant, about her 15 years experience in independent film, the challenges, the highlights and her thoughts on gender issues within the Australian screen industry.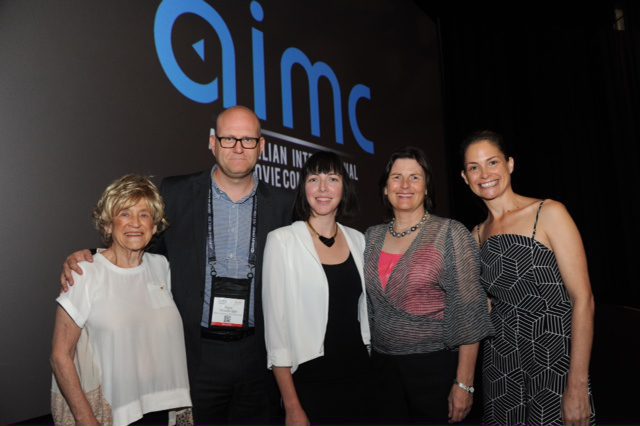 Recent research indicates that there remains a significant gender imbalance in our industry. In your career, have you felt it more challenging to be a woman than a man?
In theatrical distribution and exhibition, the area in which I have mostly worked, there is a distinct division of roles in sales and programming, (mostly men), and marketing and PR (mostly women) and with top-level executives predominantly male. Whilst there is a wealth of talent across the board, with sales and executive decisions informing much of the scope of a film's campaign it does make it challenging to ensure that there is female influence when key decisions are being made about what films make it to the marketplace, how they are positioned and the support they receive. In my experience I found the closer these two departments work together the better. Even better would be to get a better gender balance across all departments and levels.
I would say the biggest challenge personally though has been to manoeuvre my career around having children and returning to the workforce. Whilst this is not unique to our industry, the gender imbalance at executive level means a lack of support for working mothers and women considering having children. The obstacles, including a lack of flexibility in workplace arrangements and the cost of childcare, means this is a very common challenge and that many talented women with great leadership potential are exiting or plateauing in their jobs which is a great shame.
Have you experienced sexism in your career and, if so, how have you overcome it?
Thankfully not a lot overtly but I had a good dose of it on one particular campaign I managed where the film was in pretty poor taste and the director opted to converse directly with my male bosses rather than with me. It did help me realise the importance of working on projects and with people you respect and are inspired by, and that very much influences my current work.
Do you think things are better in 2015 than, say, 20 years ago?
I started as a junior at Village Roadshow 20 years ago and one of my first campaigns was Muriel's Wedding – a gorgeous, heartfelt film with a strong and sassy women front and centre. I've worked on very few films like this since, so in this sense, I don't think things are much better. We need more films by women and about women on our screens. It is brilliant to see the recent success of The Dressmaker and this shows there is commercial viability for films centering on women.
It seems women writers and producers and other technicians are doing well, but there is a dearth of women directors and DOPs. Why do you think that is? 
This is definitely the case when it comes to studio films, many of which are big budget blockbusters driven by action and special effects. Studio executives, mainly men, want other men at the helm of those films  – maybe because they don't think women can handle this genre  – which is crazy, right? Check out the hilarious Funny or Die clip "The Real Reason Women Don't Direct More Action Movies" for a great insight into this. Although women are slightly more visible at the helm of non-studio, independent films and docos, I think a key obstacle (again!) are marketplace decision makers, who steer clear of female directors making films about female protagonists.
Has thinking around gender issues informed your work – in writing room, development etc?
Women are the key decision makers when it comes to making choices at the box office, with the mature female demographic the strongest and growing market and so this informs much of the marketing campaign structures for the films I work on. Much time is spent drilling down on the key issues of the films that will appeal to women, detailing key influencers, and creating meaningful messaging that speaks to busy women.
Who have been your female role models?  Have you had female mentors or yourself mentored younger women coming through?
In my first job out of school I was lucky enough to work in an all female team with a wonderful boss, Libby Rhys Jones. On reflection, I know that instilled a sense of strong female leadership that has informed my career. Working with Producer Kath Shelper has shown me the power and beauty that films about important social issues can have and how being a Zen warrior woman gets you far in the workplace.
Can you talk about your own career path – how did you start out, what were your ambitions?
My career has been a "jungle gym, not a ladder" as Cheryl Sandberg quotes in the fabulous Lean In. Mixing travel and work throughout my twenties I worked in distribution, festivals and production. I returned home to run a cinema, and then back into distribution working on many Australian films where my passion lies. I've worked mainly in small businesses, preferring the 360-degree nature these roles require, and l love to work with people and on projects that inspire and impact.
What have been your career highlights and why?
The most daunting highlight was the first morning of my job to relaunch the Chauvel Cinema – getting the keys and opening the door to this sleeping, and supposedly haunted giant, and spending many weeks on my own there just churning ideas and making lists was wild. Winning the Natalie Miller Fellowship this year has been an incredible honour and highlight. Oh, and having dinner with Tilda Swinton in a Scottish seafood restaurant – she was out of control cool.
What are you working on now?
I've recently formed a company, Goodship, with Tracey Mair, which specialises in impact producing for films that have the potential to have tangible positive influences on society, as well as traditional marketing and distribution services. Check us out at www.goodship.com.au.
---
This interview was first published by Screen NSW, read more on their target to achieve gender equality in the Film and Television Industry in NSW here, including interviews with Liz Watts, Kylie du Fresne, WIFT (NSW), Dollhouse Pictures and more.